Becky Gipson
Graphic Designer and Web Specialist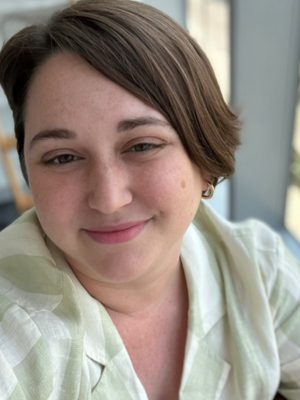 Biography
Becky Gipson is the graphic designer and web specialist for Newcomb Institute. She manages all programs and activities related to the Newcomb Institute's visual brand and web presence. Becky received her post-baccalaureate in Digital Design, specializing in Interactive Design, from Tulane University and has two Bachelors of Fine Arts from the Savannah College of Art and Design.
Before working for the Newcomb Institute, she worked for the Tulane School of Public Health and Tropical Medicine in communications, and before that was a department director at the Preservation Resource Center of New Orleans and collaborated with Rebuilding Together New Orleans.
Key Resonisiblites:
Update and manage the Newcomb Institute and Newcomb Alumnae Association websites. 

Designs and manages the Newcomb Magazine website.

Designs and layouts the Newcomb Magazine and NOSTRA Magazine.

Designs all print, digital, and environmental graphics, including but not limited to event promotion, posters, wall clings, invitations, programs, reports, and swag. 
Selected Writings
"New leadership in maternal and child health focuses on equity-centered approach," Tulane Today, December 01, 2021.
"Mass spectrometry reveals mosquito metabolism complexities may lead to more effective control strategies," Tulane News, October 06, 2021. 
"Tulane Students help create a Vietnamese language video about COVID-19 Vaccines," Tulane Today, July 22, 2021. 
"Research uncovers how provider offices discriminate against patients seeking primary care," Tulane Today, May 05, 2021. 
"Tulane CAMRE part of a $30M global project to fight malaria," Tulane Today, April 23, 2021. 
"Research shows that healthier foods provided in WIC packages benefitted all children equally in the reduction of obesity risk, regardless of family income," Tulane Today, March 09, 2021. 
"Big Freedia shares message to mask up with The Skin You're in," Tulane News, December 11, 2020. 
"Environmental Health Sciences students aid in emergency operations for Hurricane Laura," Tulane Today, October 09, 2020. 
"Tulane MD/MPH students provide support to DePaul Community Health Center during COVID-19," Tulane News, September 08, 2020. 
"Interdisciplinary Tulane team competes in Johns Hopkins COVID-19 design challenge," Tulane Today, March 30, 2020. 
"The School of Public Health building gets new look through project with The Skin You're In," Tulane News, August 28, 2020. 
"Six Tulane student groups awarded grants from Sprinting to the Front Lines," Tulane News, April 20, 2020. 
"Study finds homicide is a leading cause of pregnancy-associated death in Louisiana," Tulane News, February 05, 2020. 
"PRC Revitalizes the Last Standing Building of New Orleans' Original African-American University," Preservation in Print, 
"OC Assists in Renovating 47th Blighted Property in Holy Cross," Preservation in Print, 
Awards
2023 American Advertising Awards (timestamp: 00:09:30) - Gold Addy Award for Animation in District 7 (Alabama, Georgia, Louisiana, Mississippi, and Tennessee)
2023 New Orleans American Advertising Awards - Two Silver Student Addy Awards for Poster Design and Animation 
Placed in the top ten in Adobe Creative Jam, an international design competition, in February 2021 for a mobile app prototype collaboration with Check It NOLA and Tara Brown
2021 New Orleans American Advertising Awards - Two Gold Student Addy Awards for Logo Design
2019 New Orleans American Advertising Awards - One Silver Student Addy Award for App - Mobile
2018 Award for Excellence — Louisiana Landmarks Society, Project Manager for 1423 North Claiborne - Straight University Boarding House and Dining Hall
Professional Organizations
The American Institute of Graphic Arts - Member since 2018