About the Arons Poetry Program
Since 1999, the annual Florie Gale Arons Poetry Program has brought a distinguished woman-identified poet to campus for a poetry reading and workshop. The program was established by the daughters of Florie Gale Arons (NC '50) in 1999 in honor of their mother's 70th birthday, and family and friends assure that it continues today in her memory. Mrs. Arons' posthumously published collection of poetry, Unspoken Words, is available at the Newcomb College Institute, the Tulane Bookstore, and independent bookstores.
2023 Arons Visiting Poet: Franny Choi
Image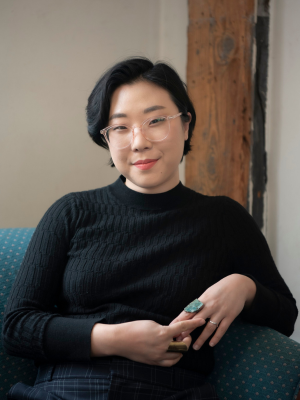 Franny Choi will be the 2023 Arons Visiting Poet
October 23, 2023, 7:00 PM to 9:00 PM
Uptown Campus
Diboll Gallery, Newcomb Institute
They are the author of three poetry collections: The World Keeps Ending, and the World Goes On (Ecco/HarperCollins, 2022), Soft Science (Alice James Books, 2019) and Floating, Brilliant, Gone (Write Bloody Publishing, 2014). Her writing has appeared in the New York Times, the Atlantic, the Paris Review, and elsewhere. A recipient of the Lily/Rosenberg Fellowship,Princeton's Holmes National Poetry Prize, and the Elgin Award, Franny is Faculty in Literature at Bennington College and the founder of Brew & Forge. They are at work on an essay collection about Asian robot women, forthcoming from Ecco.
 
Kiki Petrosino 
Khadijah Queen
Layli Long Soldier
Morgan Parker
Anne Boyer
Laura Mullen
Jennifer Grotz
Julia Spicher Kasdorf
Tracy K. Smith
Mary Jo Bang
Sharon Olds
Marie Howe
Brenda Hillman
C.D. Wright
Nicole Cooley
Kimiko Hahn
Alice Notley
Toi Derricotte
Natasha Trethewey
Denise Duhamel
Colette Inez
Carole Simmons Oles
Maxine Kumin
Kate Daniels