Each year since 1985, the Zale-Kimmerling Writer-in-Residence Program has brought a renowned woman-identified writer to campus. The Zale-Kimmerling Writer-in-Residence program was established by Dana Zale Gerard (NC '85), and made possible by an annual gift from the M.B. and Edna Zale Foundation of Dallas, Texas. Since 2006, the Program has been generously supported by Barnes & Noble College Booksellers. In 2010, the program became fully endowed through a gift from Martha McCarty Wells (NC'63), and known as the Zale-Kimmerling Writer-in-Residence program.
Rebecca Makkai will be the 2023 Zale-Kimmerling writer-in-residence.
Image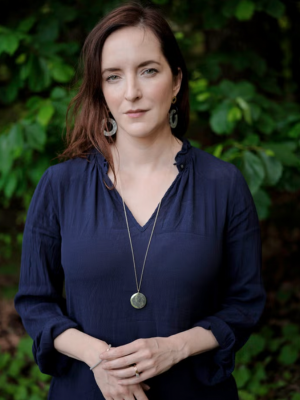 November 06, 2023 7:00 PM to 9:00 PM
Uptown Campus
Kendall Cram Lecture Hall
Rebecca Makkai is the author of the novels I Have Some Questions for You, The Great Believers, The Hundred-Year House, and The Borrower, and the story collection Music for Wartime. A finalist for the Pulitzer Prize and the National Book Award, The Great Believers received an American Library Association Andrew Carnegie Medal for Excellence in Fiction and the Los Angeles Times Book Prize, among other honors, and was named one of the Ten Best Books of 2018 by The New York Times. A 202 Guggenheim fellow, Makkai is on the MFA faculties of the University of Nevada, Reno at Lake Tahoe and Northwestern University, and is the artistic director of StoryStudio Chicago. She lives on the campus of the midwestern boarding school where her husband teaches, and in Vermont.
Past Speakers: 
Min Jin Lee 2023
Britt Bennett 2022
Valeria Luiselli 2021
Lauren Groff 2020
N.K. Jemisin 2019
Rebecca Solnit 2018
Meg Wolitzer 2017
Zadie Smith 2016
Danielle Evans 2015
Lorrie Moore 2015
Susan Choi 2014
Aimee Bender 2013
Antonya Nelson 2012
Valerie Martin 2011
Amy Hempel 2010
Clare Messud 2009
Michelle Tea 2008
Elizabeth McCracken 2007
Curtis Sittenfeld 2006
Julie Orringer 2006
Ellen Gilchrist 2005
Mab Segrest 2004
Thisbe Nissen 2003
Joanna Scott 2002
Edwidge Danticat 2001
Jessica Hagedorn 2000
Ann Patchett 1999
Octavia Butler 1998
Deb Margolin 1997
Ellen Bryant Voigt 1996
Dorothy Allison 1995
Lee Smith 1994
Rosellen Brown 1994
Linda Hogan 1993
Sonia Sanchez 1992
Ellen Douglas 1991
E.M. Bronner 1989
Gloria Naylor 1988
Nancy Willard 1988
Carolyn Forche 1987
Alison Lurie 1986